All on 4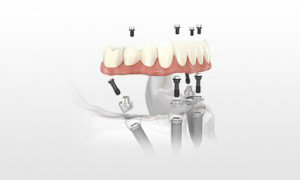 All on Four (or Teeth Now), is a revolutionary new technique whereby a whole arch of failing teeth is replaced with dental implants in a single visit. The teeth are removed, implants placed and high-quality fixed temporary teeth are fitted, all without the patient needing to leave the Clinic.
All on Four can benefit patients who:
are faced with a failing dentition, due to gum disease or failing bridgework
whose only other option is to wear dentures
are unable to have gaps in their smile during implant treatment
who currently wear upper and/or lower dentures.