Gum Recession
Gum recession describes the movement of the gum tissues away from the neck of the tooth. It is a direct consequence of excessive toothbrushing, gum disease and as a consequence of orthodontic treatment.
Recession can lead to poor aesthetics, tooth sensitivity and a predisposition to decay. In serious cases recession can lead to tooth loss.
Recession can be readily treated with a form of treatment known as mucogingival surgery. This wide range of treatments allows us to thicken the gum tissue to prevent further recession from recurring alongside repositioning the gum to its original position. A wide range of surgical techniques and approaches can be utilised based on the individual problem.
Black Triangle Closure
These are caused when patients experience gum recession along with the loss of the papilla or gum between their teeth leaving an unsightly "black triangle" space. Over time, the space gets bigger and food gets stuck between the teeth which creates an "a smile with food stuck in the dark triangles".
Treatment using porcelain bonding is very effective as the before and after shots shows.
Before
After
Meet the team
Dr Mitul Shah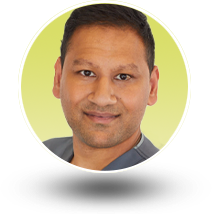 BDS, MFDS RCS (Ed), MClinDent Periodontology (Hons), MPerio RCS (Ed) GDC: 228287
After working in general practice in Oxfordshire, Mitul gained experience in oral and maxillofacial surgery and restorative dentistry at the Royal London Hospital, inspiring him to pursue a career in periodontics. Mitul has in depth experience managing complex gum health problems including recession, deformities, gummy smiles and other problems – especially with dental implants.