Crown Lengthening
Crown lengthening surgery: Also known as a 'gum lift' procedure removes excess gum tissue and improves the symmetry of the teeth and gums. The result is a more harmonious smile that mimics nature. Crown lengthening may be performed as an individual procedure or more commonly as a part of a more comprehensive aesthetic treatment plan. If too much of your gums cover the surface of your teeth, we may recommend a procedure known as a gingivectomy. This is also known as gum contouring and involves the removal of extra gum tissue. Our periodontist surgeon Dr Mitul Shah will use a scalpel or laser to trim or reshape your gums to reveal more of your teeth's surface.
Before
After
How long does Crown Lengthening treatment take?
The duration of the treatment is entirely case dependent and after your initial consultation, you will be given a detailed treatment plan but this treatment can be completed in as little as two appointments.
Meet the team
Dr Mitul Shah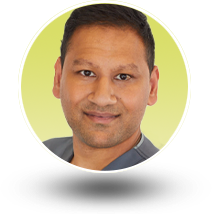 BDS, MFDS RCS (Ed), MClinDent Periodontology (Hons), MPerio RCS (Ed) GDC: 228287
After working in general practice in Oxfordshire, Mitul gained experience in oral and maxillofacial surgery and restorative dentistry at the Royal London Hospital, inspiring him to pursue a career in periodontics. Mitul has in depth experience managing complex gum health problems including recession, deformities, gummy smiles and other problems – especially with dental implants.