Dental Implants
A missing tooth can have a significant impact on your life. The unflattering appearance of a gap in your mouth can affect patients psychologically in addition to the obvious discomfort caused. If you've lost some or all your natural teeth, our implant dentistry based at our practice in Kew, Richmond offers a clinically proven, safe alternative to bridges and dentures. Dental implants with our leading specialist Dr Zaki Kanaan provide a modern, long-lasting solution to the loss or damage of teeth.
Do I need a Dental Implant?
There are a variety of reasons as to why tooth replacement may be required:
Tooth decay
Trauma resulting from an accident
Failed root canals
Dental defects from a genetic condition
Complications arising from gum disease
Tooth loss and resulting misalignment
Excessive wear and tear.
What are Dental Implants?
When you lose a tooth, the surrounding bone and gum shrinks as it heals, and continues to shrink over time. Implants are small titanium fixtures that replace the roots of one, several or an entire set of teeth, they actively stimulate the jaw bone and prevent further shrinking. Bone grows back closely around an implant, making it permanently fixed and strong. Implants produce attractive and secure replacement teeth making it the gold standard for tooth replacement:
What are the benefits of Dental Implants
They improve your appearance. Providing the look and feel of natural teeth
They are anchored into your jaw and can last a lifetime
They can improve your speech – no more risk of loose dentures causing you to mumble or slur
They are far more comfortable and allow you to eat and chew the food you like without pain or discomfort
They allow you to smile confidently and feel better about yourself
They enable better oral health through leaving your own teeth undisturbed
They last longer than any other form of dentistry – a lifetime, with proper care
They are more convenient. You clean them just like normal teeth, and they don't need messy fixatives to keep them from moving around
Implants are the modern alternative to dentures.
How long do dental Implants Last?
Dental implants are a very popular treatment and are the most natural solution to tooth loss, both aesthetically and functionally. They are also extremely reliable, with an extremely high success rate in a healthy person. As implants are anchored directly into your jaw, meaning that your adjacent natural teeth are not needed for support as in the case of a bridge, they are permanent. With routine check-ups and the following of home care instructions implants should last a lifetime.
Does implant treatment hurt?
Dental implants are always placed under local anaesthetic, which ensures you are kept as comfortable as possible. However we understand that even when the pain is managed, some patients may still be dealing with anxiety. We do our absolute best to put you at ease, from explaining exactly what to expect at every stage through our detailed treatment plans or reviewing options for sedation.
How long does implant treatment take?
Dental Implants at our Richmond Practice with our specialist Dr Zaki Kanaan vary slightly in terms of timings, as every patient has very specific and individual requirements. Certain patients may require preparatory work first. However most patients generally follow a four staged process, this begins with an initial consultation and CBCT scan, this provides a 3- dimensional scan of your teeth and surrounding structures showing even the most previously difficult to diagnose cracks and infections. This is followed by placement of the implant and 12 weeks after placement crown impressions are taken. The final and fourth stage of the process is the crowns being fitted, usually 2 weeks after the impressions.
How much do Dental implants cost?
Please review our fees list
Meet our Dental Implant Specialist in Richmond
Dr Zaki Kanaan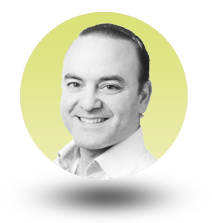 BDS (London), MSc, DipDSed, LFHom
Zaki is a highly experienced and respected implant and cosmetic dentist and is well known in the dental community. He is the past President of the British Academy of Cosmetic Dentistry. He features prominently on the lecture circuit, speaking on all aspects of cosmetic dentistry with a special interest in dental implants, where he has achieved a master's degree from the world-renowned Guy's Hospital in 2001. He also has a Diploma in Sedation, a Diploma in Hypnosis and is a Licentiate of the Faculty of Homeopathy.
Photo credit: Peter Kasprzyk